5 Best Camping Coffee Makers for an Amazing Cup of Coffee
To have your essential cup of coffee whilst camping these days is easier then ever, however there are a lot of options out there and it can be a bit overwhelming choosing the best camping coffee maker for you...
When choosing your camping coffee maker, you should have a small list of priorities that are most important to you when having your morning cup of coffee, this will help you scale down your search as there are a lot of camping coffee makers out there that all do and don't do different things.
Things to Consider
Brewing method
Below are some key practical points you may want to consider in order to help you choose the best travel coffee maker for you. 
As you know there are a lot of ways to brew your coffee, some of these coffee brewing techniques are, french press, pour over, drip coffee, percolator coffee, turkish style coffee and espresso coffee. Of course with then there are also the most popular, cappuccino, long black, latte and flat white.
You will probably already have your preferred style of coffee which will come from one of the above coffee brewing methods and so its smart to pick the style of travel coffee brewer that can make your preferred brew!
Dimensions and weight
The dimensions and weight of your travel coffee maker are important to consider as you don't want to carrying around a large space taking piece of equipment just for your morning brew, you want something compact and space efficient that can make quality coffee.
The products listed below are all either foldable or light weight and compact. 
Amount of coffee it makes
 This again depends on your personal preferences, most travel coffee makers make enough coffee for two people. The percolator depending on the size can make enough coffee for a family. 
So part of choosing the best travel coffee maker for you depends on whether you drink more than one cup of coffee in the morning!
Power source
We are sticking to all travel coffee makers that do not require power as we know you like to travel in the wilderness where there's probably not much power!
Ease of clean
If you're an experiences camper you will know how important it is to bring equipment that is easy to clean up. This is an important factor to include I your decision making process as it could save you a lot of time and pain. 
Durability 
Reading through a lot of review on portable travel coffee makers it seems there are a lot of travel coffee makers out there that just are durable...When you're camping, hiking or adventuring you will need to bring equipment that can with stand mother nature. 
A good tip is to read the reviews of people who have purchase the travel coffee maker before you buy and see if it has broken after a few months or not.
Price
The price range for travel coffee makers can vary between $15 to over $100, which usually is in direct correlation to the features and durability however not always. Sometimes a high price item can be terrible quality, so we advise you again to have a skim through the reviews of the product before purchasing any travel coffee maker. 
 The Primula Single Serve Coffee Brew
Designed to brew a single cup of coffee at any strength, the Primula Single Serve Coffee Brew Buddy is the ideal tool for rich and delicious coffee anytime, anywhere.
The Brew Buddy only weighs 45 grams, is eco friendly and fits on almost all mugs. The Brew Buddy can be used not only when camping but also at home or at the office.
All you have to do is put your coffee in the netting and consistently pour you coffee over, the travel coffee maker is easy to clean and is dishwasher friendly with no little areas coffee can get stuck in.
Capacity: 18oz / 500ml (limited only by the size of your mug really)
Weight: 1.6oz / 45g
Type: Pour Over
Requires power? No
Requires hot water? Yes


Coffee Gator
The team at Gator have made a thermal travel Cup with the aim of being able to make and drink incredible, barista-quality coffee at home or on the go.
The focus with this travel coffee maker is on high quality components. In their words, "Inferior metal makes drinks taste like licking a battery" and we couldn't agree more. Which is why this is made from military grade stainless steel.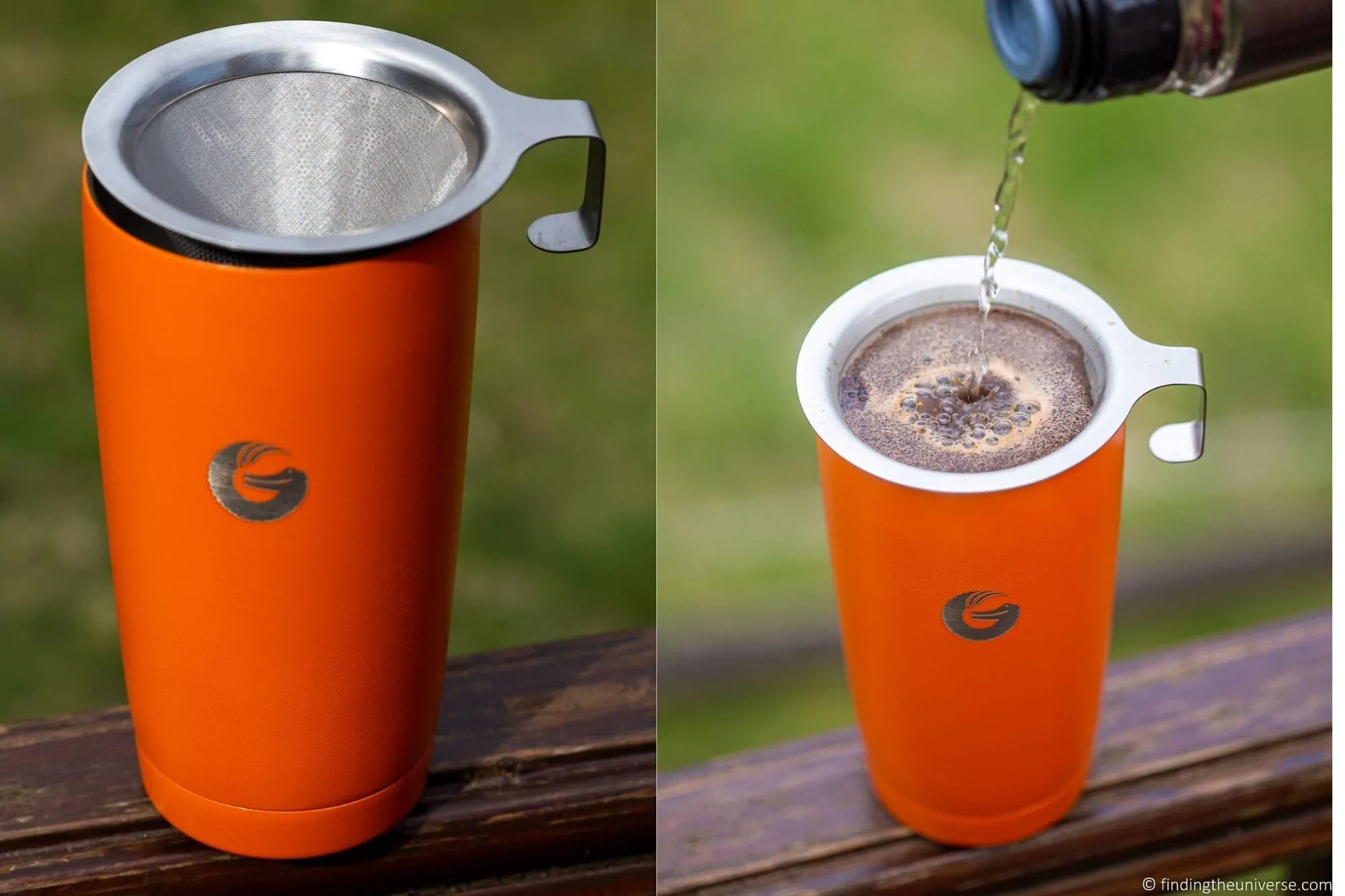 The dual layers of premium stainless steel create a vacuum that reduces heat transfer, so you are guaranteed the perfect temperature coffee for longer. In fact, it keep coffees hot for 6 hours, or cold for 20 hours.
The product comes with a stainless steel filter for making making pour over coffee too.The lid slips on and off in a flash, rinses in seconds, and is dishwasher safe. The icing on top of the cake is their total satisfaction promise, which covers everything they sell (they had nearly 10,000 positive reviews last year).
We travel with this coffee system. It makes a great travel coffee mug in general, and it makes good coffee quickly and easily. We'd say it's between this and the AeroPress for us in terms of our favourite travel coffee options.
Capacity: 12oz / 340ml
Weight: 10oz / 400g
Type: Pour over
Requires power? No
Requires hot water? Yes
Wacaco Nanopresso Coffee Maker
Famous among the hiking community, the Wacaco Portable Espresso Maker is designed to be the smallest, lightest and most versatile handheld espresso machine. Space and weight are major factors when selecting the right travel coffee maker and this model is portable, compact and functional!
With its innovative design, the Minipresso is easy to use, with no battery or electric power needed. You just need to add ground coffee and hot water. For a shorter trip you can even add boiling water to its tank so you don't need to worry about heating it up while you're out.
With the help of the semi-automatic piston, the water is pushed through the coffee at 8 bars, and after just a few pushes, your espresso is ready to be extracted. Water tanks of different capacities are also available so you can enjoy multiple espresso types, ranging from ristretto to caffè lungo.
Considering the body of the machine is made from stainless steel, it isn't very heavy, weighing just 360g. A quick simple wash will do wonders, but keep an eye on the indentations in the filter chamber to ensure that it continues to seal nice and tight.
Capacity: 1.76oz / 50ml
Weight: 12.7oz / 360g
Type: Espresso
Requires power? No
Requires hot water? Yes
Aeropress Coffee Maker
If you are looking for something quick and simple that brews smooth ground-free coffee every time, this AeroPress might be a fantastic option for you. AeroPress basically created a new type of portable coffee extraction method, known as the AeroPress brewing system.
The AeroPress brewing system results in uniform extraction for a full coffee flavour. It includes a micro filter for grit free coffee and guarantees a 20 second 'press time' – just add your coffee and water. The end result is up to an 8oz coffee drink which is similar to but not quite as strong as espresso, to which you can add water to create a 10 oz sized Americano if you wish.
The AeroPress kit comes with 350 disposable filters, a scoop, funnel and stirrer. However, we recommend picking up a metal filter instead of the disposable filters so you don't have to bring loads of filters with you when you travel, and also to avoid waste.e
An added bonus is that there are no fiddly parts that are hard to get to when washing, so the clean up is relatively simple. That said, in our experience no coffee system is ever that easy to clean as coffee grinds have a habit of getting everywhere!
The AeroPress also comes with a tote bag to keep your coffee maker tucked away neat and tidy on your travels.
Overall, this is a relatively lightweight and portable system that makes great coffee, and which is perfect for throwing in your backpack for your next camping trip or holiday. It's designed to be simple to use, and you don't have to worry about grind size or getting coffee grit in your finished drink, plus you can make both espresso style coffee and Americano style coffee by just adding hot water.
The Aeropress is one of our most recommended systems for travelers, especially for campers and hikers where weight and simple cleaning is important – we've enjoyed it when exploring the outdoors of Scotland.
Capacity: 8oz / 220ml
Weight: 8oz / 226g
Type: AeroPress
Requires power? No
Requires hot water? Yes
Soulhand All In One Coffee Maker
If you are a bit of a coffee connoisseur, you probably like to do everything yourself, including grinding your beans. From a travel perspective, whole bean coffee usually stays fresher than ground coffee, so having a way to grind your beans on demand makes logical travel sense too.
This travel coffee maker from Soulhand takes on-the-go coffee making to the next level. Not only does it allow you to store your beans and grind them up, but it also includes a hand mill grinder, insulated thermos, reusable filter dripper, and a mug cup all in one!
You can adjust the grinding thickness according to the type of coffee you want to drink. It's made of quality stainless steel and food-grade polypropylene material (FDA certified), ensuring long term use. It also comes with the complete grinder and filter system, while the grinder core itself is made of a durable ceramic.
No need to worry about batteries, power, or long cords to operate this portable, compact coffee grinder. It measures at 8.6 x 4 x 3.9 inches, which is compact enough to travel with. The cup will also fit in most car cup holders for your next road trip.
Capacity: 9oz / 260ml
Weight: 27.5oz / 780g
Type: Drip coffee
Requires power? No
Requires hot water? Yes
Summary
In summary it all depends on your needs and wants, choosing the best travel coffee maker can improve your camping, hiking and travel setup a lot. Packing coffee for adventures needs to be efficient but also needs to meet how you like your cup of java, use the things to consider section at the top to help guide your decisions!