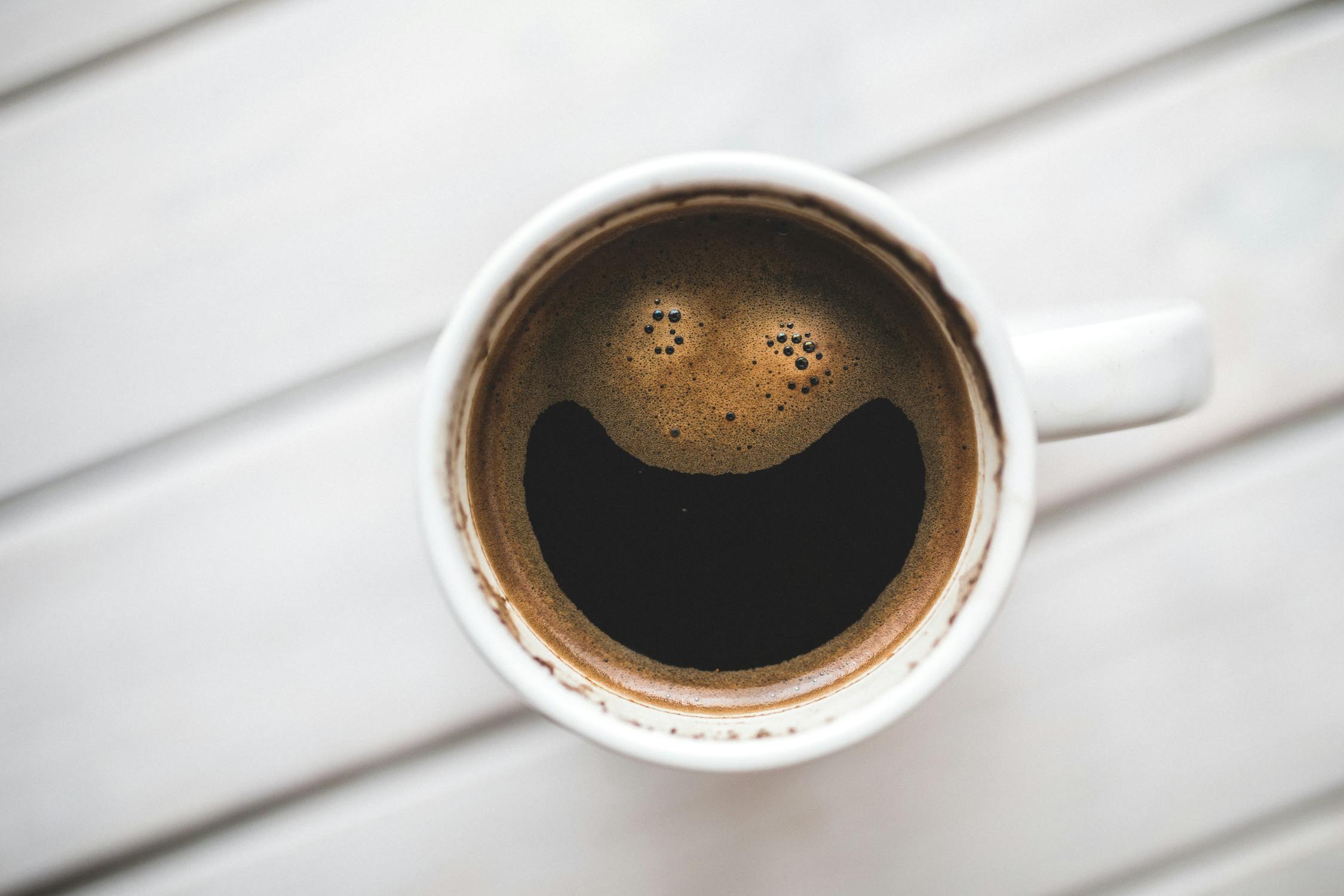 These fantastic devices, Portable electric coffee grinders have entirely changed the coffee lifestyle for many fans of coffee. Imagine that you can take this electric grinder with you very quickly. You simply grab it, put it in your bag, and carry it at your vacation, or whatever location you plan to visit. The benefit for you with portable electric grinders is quite clear. You can have freshly ground coffee everywhere you wish and enjoy a delicious and gourmet coffee. You really don't know what you are missing if you don't have a portable electric grinder along with an espresso machine that you can carry with you as well.
In case you haven't thought about buying a portable electric grinder, then stay with me and check the reason why you should get one. Moreover, I am going to refer to some of the best selling portable grinders on Amazon to help you decide which one is the best for your needs.
Why to Buy a Portable Electric Coffee Grinder
Manny avid coffee lovers find it necessary to have their own portable coffee grinder, and here below, you may see what the advantages are, and why this is a trending item.
Most of these portable devices don't require much space due to the

 

compact size. Therefore you can take them with you while traveling with ease.
You

 

will not miss the rich and bold flavored coffee

 

since you could have

 

freshly grounds of coffee anywhere. Imagine that you could use it in your hotel room, car, RV, college dorm, or your home. Its function is based on rechargeable batteries, and it doesn't need electricity power all the time. So, it consists of an excellent choice for outdoor activities such as camping or a picnic with your friends or family.
A manual grinder would require much of a manual effort from your side and sometimes the result isn't as good as you wish. With a portable electric grinder,

 

you save time and effort, and it's a more convenient solution.
Portable

 

coffee grinders are easy to use and more efficient

 

than manual grinders with less time needed for the grinding and will give you the desired fresh grounds of coffee at any place you can imagine.
Cordless and pretty low levels of noise

 

while grinding.
You could also use it as

 

short of coffee storage

 

for a small quantity of coffee beans.
The Best Portable Electric Coffee Grinder
Up to now, it's pretty clear why you would like to own a battery operated portable coffee grinder and why most coffee lovers have one. So, let me move forward and present you my research findings on which is the best battery operated portable coffee grinder. I hope that these portable coffee grinders will suit your needs as well, and my honest review will help you decide.
Coffee Boy All-in-One Electric Ceramic Grinder with Portable Coffee Maker
All in One Solution:
This device includes an insulated stainless steel cup, a microporous filter, an industrial coffee grinder, a safety sipping lid, and powered by a battery which is going to last for really long. 
The Coffee Boy is the portable coffee grinder with a coffee maker that can deliver the world of fresh coffee at any place, at any time, with ease.
The design of Coffee Boy is compact and offers an easy set-up for any user to put whole beans of coffee and hot water, so simple to use. Just leave Coffee Boy to handle the rest to give you a fresh cup of coffee at no time. Don't worry about the grinder since it has enough power to provide you with fine or coarse coffee grounds. This device is made to extract the texture of coffee you desire by utilizing a versatile ceramic grinder blade. It works with the press of a single button which located on top of the device. You press it to start and then press again to end the grinding procedure.
The manufacturer had portability in mind, so a battery is included and has the power to prepare up to 20 cups with a single charge. You can recharge it via USB port whereas the respective cable is included. An LED light will indicate you about the charging process.
The design of Coffee Boy is pretty convenient since you can place it into your car's cup holders, travel bag, etc. It's a device that you can use it at your college dorm, house, at your office, or just take it with you outdoors. Excellent for campers, hikers, hunting, fishing, or any other activity.
You can enjoy hot or cold coffee, and it has an adjustable ceramic grinder. You can wash it with water and soap, but it's suggested to clean the battery with a towel or a brush. The Coffee Boy is very well-made, and if the grinder holds up long-term, that will be excellent. Everything is compact, and the USB charging is an attention drawing feature. Grinding could be a little slow for some users.
Mueller Austria HyperGrind Precision Electric Coffee Grinder Mill
This isn't rechargeable, but I had to review it since it's the best selling and top rated electric and portable coffee grinder on Amazon. This grinder also provides a comparative large grinding capacity.
Unlike several offers online, the Mueller HyperGrind provides you excellent consistency and precision control over the coarseness of your AeroPress, Cold Brew, Javapresse, Drip, Pour Over, Keurig K Cup, Chemex, French Press, Percolator, Espresso, Turkish, Herb, or Spices grind every time you use it.
This device has a small footprint and will require very little space. You can take it with you with ease, but you need to have a power supply since it's not a cordless coffee grinder. If you leave it at your home kitchen, then you could store it easily to any cupboard due to its compact design.
Crafted with the same principle as traditional German accuracy machinery, this Mueller HyperGrind Coffee Grinder is created and tested through 3 professional-grade inspections to endure and beat its competition.
The Mueller Precision Electric Coffee Grinder allows you freshly grind beans of coffee or several spices without missing the flavor. Grind whole beans fast and efficiently with this powerful portable grinder.
It will give full body in flavor and rich aroma for delicious and gourmet cups of coffee. Moreover, its a versatile grinder and could be used for chopping or grinding seeds, nuts, spices, or herbs. In my opinion, the design isn't that appealing, but this is subjective and not the uniques selling point of the device.
This grinder is very stable, easy to use and clean, and for some users, the noise level is the same with other grinders or a little bit louder. It may not appear deep enough when you open it and is advertised as large capacity. But, when you use it, you will realize that it does exactly what it claims.
SHARDOR Portable Electric Coffee Grinder Electric
SHARDOR coffee electric grinder has a stylish and elegant look, as well as practicality in using it. 
The see-through lid enables you to focus on the process of grinding at any time, and the lid activated safety function provides you the control of the powder thickness and based on your preferences.
The grinder comes with a quality stainless steel blade that performs within a fast and powerful way, grinding whole beans of coffee evenly and sharply.
You can adjust the grind by pressing the lid. The grinder can produce fine or coarse coffee in about 20 seconds for French press, Espresso, Pour over, Moka pot, or cold brewing
It's easy to use, easy to clean and has a safety lock along with a sealing ring to avoid coffee particles splashing.
The cord length us 105 cm and can be quickly stored under the bottom. Its compact dimensions, short and storable cable, makes it portable or space saving for your kitchen.
If you go for this electric coffee grinder, you understand very well that whole beans freshly grounded taste better than coffee-shop bought pre-grinded coffee. This electric portable coffee grinder gives a nice coarse grind initially which is excellent for French press, but if you hold the top (grind) for longer, you'll have a more consistent fine grind. You will really like this electric coffee grinder, it's straightforward to use. I would positively recommend to anyone searching for an excellent reliable electric coffee grinder.
Pinlo Electric Portable Coffee Grinder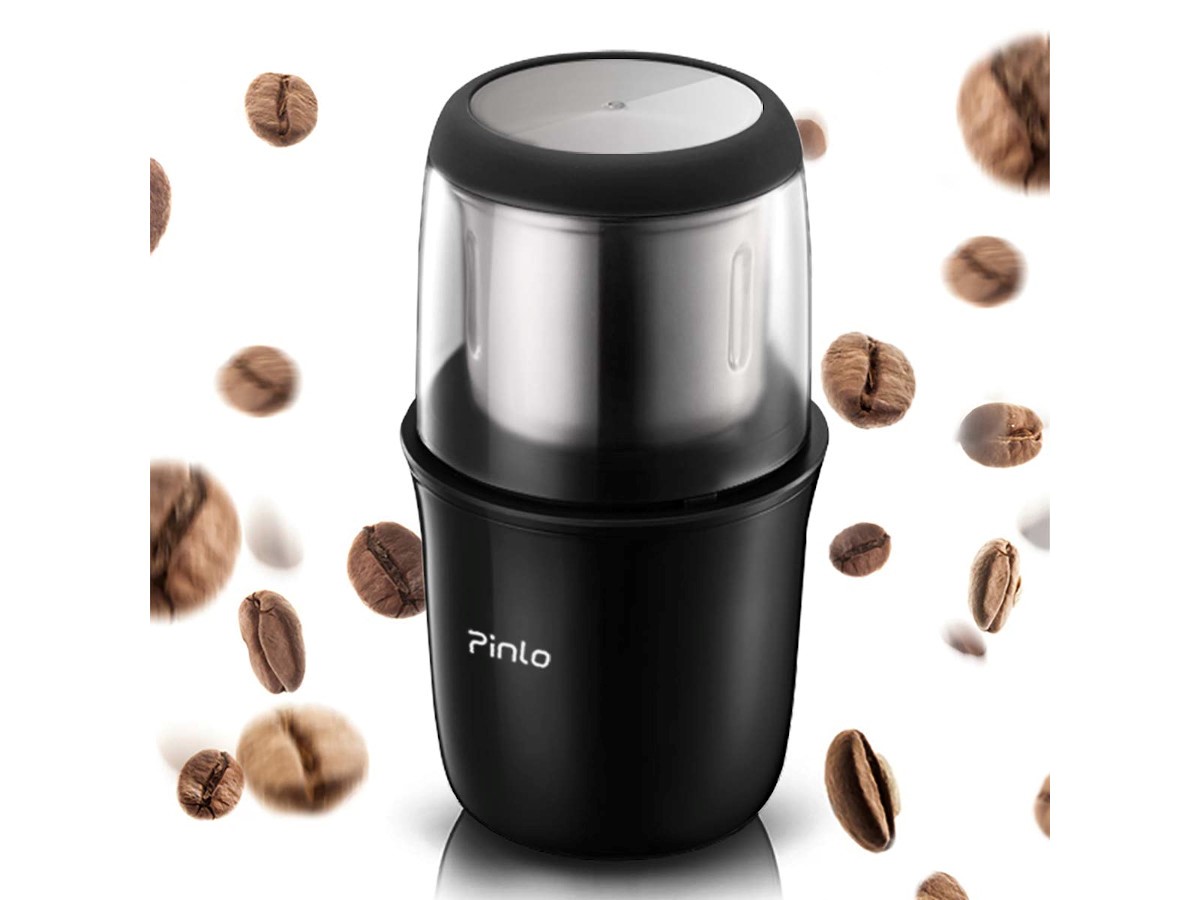 One touch, easy to use. You can control how fine the powder is from the time you hold the grinding. Grinding between 1-10 seconds will give coarse grounds or hold the grinding for 20-30 seconds for fine powder.
The sturdy, quiet motor with high-speed stainless steel blades is excellent for coffee beans, spices, seeds, and nuts, effectively grinds beans fast and uniformly without burning. Enables you to make a family morning cup of coffee while they are peacefully sleeping.
Safety Lock Base – Card buckle design eliminates potential safety issues. You only need to switch the bowl counterclockwise to remove it, clockwise to lock it, which is handy and secure to use.
Cord Storage – This portable electric coffee grinder also features a slot in the bottom. You can wind up the cable in the base. It won't hang out or snag on everything. Another safety and portability feature that you'll find quite convenient.
Conclusion: How To Choose The Best Portable Coffee Grinder?
Portable solutions is a trending topic since most of us have outdoor activities or travel a lot. Which one is the best portable coffee grinder for you, depends on your needs. You need to know if you're going to have available electricity or not. If you plan to go to your second house, hotel, or boat and you have power available, then the second, and third options are most suitable for you.
On the other hand, if you're going to stay outdoors for camping, hunting, fishing, or any other activity, then the first solution is better for you. You need to have a USB port available if you plan to have more than 20 cups of coffee. Then you have to figure out the design, something attractive to me, maybe ugly for you and vice versa. Regarding the budget, I don't have much to say since most of the options are at similar price levels.